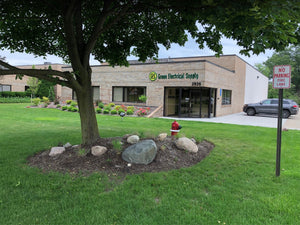 2935 Waterview Drive, Rochester Hills, MI 48309
Green Electrical Supply, an ENERGY STAR Partner, carries only the highest quality products from manufacturer names that you know and trust. We are a Michigan 50 Company to Watch award winner, a Better Business Bureau Accredited Business, a DTE Energy Trade Ally, and a Consumers Energy Trade Ally. It is our commitment to provide you with world-class customer service, support your needs with only the highest quality products, and provide fast shipping and easy returns.
WE DO NOT SHIP OUTSIDE THE US.

We are committed to your satisfaction. Every team member at Green Electrical Supply has the authority to take care of your question or concern, right now, no passing the buck. We pride ourselves in resolving all inquiries or issues in the same business day.

Green Electrical Supply is also committed to educating you on as many aspects of our products as possible. An educated consumer is our best customer.

If you are looking for quality, brand name products at competitive prices and enjoy being treated like the important consumer that you are, it's time to maximize your green®.